Detroit, the Motor City, is a place steeped in history, and its skyline bears witness to the rise and fall of industrial greatness. Among its iconic structures, Michigan Central Station, often called MCS, stands as a haunting monument to the city's past glory and its enduring spirit of resilience. This architectural relic has experienced decades of abandonment and decay, but it now stands poised for a remarkable resurgence. Michigan Central Station was inaugurated in 1913, designed by the architects Warren and Wetmore and Reed and Stem, who also designed New York City's Grand Central Terminal. The Beaux-Arts-style station welcomed passengers to Detroit with a grandeur and opulence that was symbolic of the city's position as an automotive and industrial powerhouse. The station featured a magnificent waiting room with a cavernous ceiling, ornate chandeliers, and marble accents. It served as a hub for the Michigan Central Railroad, connecting Detroit to the rest of the United States and Canada. At its peak, the station was a bustling transportation center, welcoming travelers from near and far.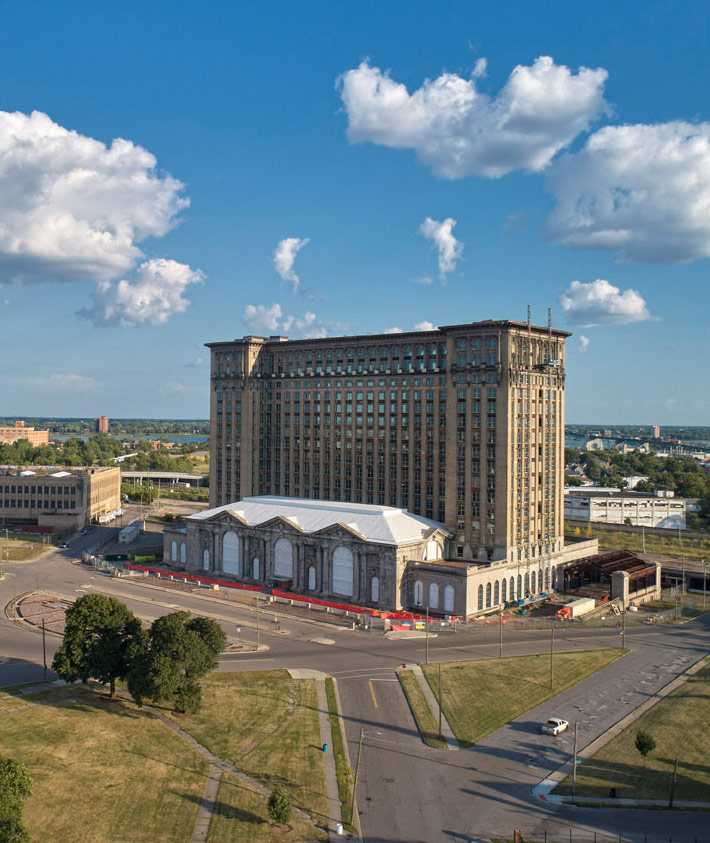 The decline of Michigan Central Station began after World War II with the rise of automobile travel and the advent of commercial aviation. The station, once a vibrant symbol of Detroit's prominence, faced a gradual decrease in passengers, and as the city's economy struggled, the station fell into disrepair. In 1988, the station officially closed its doors to train service. The abandoned station became an unfortunate emblem of urban decay, emblematic of Detroit's struggles in the latter half of the 20th century. Its iconic facade, adorned with the words "Michigan Central Station," was juxtaposed with the dilapidation of its interiors, serving as a stark reminder of the city's economic hardships. In 2018, a new chapter in the history of Michigan Central Station was written. The station was purchased by Ford Motor Company, which is headquartered in nearby Dearborn. Ford's acquisition marked a significant turning point, as the company announced its intention to transform the station and the surrounding neighborhood into a hub for mobility and innovation.
Ford's ambitious plans include the restoration of Michigan Central Station's historic grandeur and the revitalization of the Corktown neighborhood, once a vibrant community adjacent to the station. The project aims to create a center for innovation and technology, fostering the development of autonomous and electric vehicles, among other ventures.Michigan Central Station now stands as a beacon of hope in a city known for its resilience and determination. The ambitious project undertaken by Ford Motor Company represents not only a tribute to Detroit's rich history but also a commitment to shaping a brighter future.
As restoration efforts progress, the iconic station is set to once again serve as a symbol of Detroit's revival, a testament to the enduring spirit of a city that has weathered countless challenges and continues to reinvent itself. Michigan Central Station, Detroit, USA, is more than just a historic building; it is a reflection of the rise, fall, and rebirth of a city that has been at the heart of American industrial history. Its transformation from a decaying relic to a symbol of progress and hope is a testament to the resilience and innovation that characterize Detroit and the American spirit. As restoration efforts breathe new life into this architectural treasure, it will undoubtedly continue to play a central role in the story of Detroit's revival.